5P Primer: Florida Atlantic
PRESENTING- The Florida Atlantic Owls (formerly the Blue Wave). FAU is located in Boca Raton (Spanish translation: "Rat's Mouth", I'm serious) and sporting alumni like a (supposed) comedian, a porn star, and "that guy who sang that song your college roommate listened to nonstop after his girlfriend dumped him". Oh, and Leonardo DiCaprio (right) is a fan.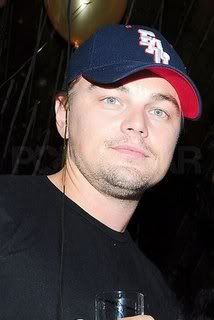 FAU is a relatively young program (started in 1981, D1 since 1994), but Auburn fans should know the Owls all too well, seeing as how they upset the Tigers in the 2002 Tuscaloosa Regional. FAU has become a bit of mid-major powerhouse; advancing to a regional 6 times since 1999. However, the move up the college baseball ladder hasn't been an easy one and since moving from the Atlantic Sun to their current Sun Belt affiliation, FAU hasn't returned to the postseason. This year, FAU was picked to finish 7th (out of 11) Sun Belt teams. Before moving on in the preview, I'd be remiss to not mention FAU's "Blue Wave" nickname. From what I understand, the Blue Wave was the unofficial nickname of the baseball team for many years until the university made them officially change it Owls. It's a shame because not only is it one of the most unique nicknames in all of college sports, but it produced one of the coolest logos in all of college baseball (seen below with former FAU skipper Kevin Cooney). It's a nice hybrid of the old Chicago White Sox logo and still remains one of my personal favorites. Some students still yearn for the good old days of the Blue Wave:
PREVIOUSLY- FAU dropped an opening game to Cincinnati 5-3, but responded in shut-down fashion, handcuffing the Bearcats in 3-0 and 9-0 victories. FAU will come into the Auburn tournament with a team ERA of 1.00. Yep. 1.00 ERA. If FAU Coach John McCormack keeps getting performances like that then he's a little ahead of the curve in his 5 year plan to rebuild and restock the boys from Boca.
PLAYMAKERS- You can't mention FAU without talking about C Mike Albaldejo. He's the mighty mite (He's 5'7) heart, soul, and captain of the team. He led the Owls in average last year (.343) and had a solid series against Cincy (.364). He might not knock the ball out of the park, but he's solid and consistent.
Also of note is the Pitcher Auburn should face Sunday, Freshman Kevin Alexander. In his freshman debut he had a solid line (6ip/0bb/6k/0er). The 6'1 RHP is a groundball machine (10 of his 21 batters face were retired by groundballs) and sets up a nice 1-2 punch with another Freshman R.J. Alvarez who has incredible heat. In that Sunday series finale he worked a clean 8th with 2ks coming with a clocked 95mph fastball.
PREVIEW- We'll find out Sunday if Alexander's debut was an aberration of it will be the norm for the freshman. If he pitches as lights out as he did, then it will be tough, and Auburn will have to rely on Cole Nelson to have another strong outing. FAU isn't really a power threat and might be young but they're disciplined (only 3 errors on the year). The strategy will be the same as it will be on Saturday early, chase the starter early and hold on for dear life.

PREDICTION- The key Sunday is Cole Nelson. After watching him in person last weekend, you can color me impressed. As long as he's pitching and until he shows me otherwise, I'll predict AUBURN WINS every time he's on the mound.
For another take on the Owls and to show how serious they take their baseball here's the latest episode of FAU Baseball Insider: