The Lineup (5/02)
You do a lot during the day. It's hard to keep up with all things Auburn baseball. Here's a handy rundown of what you may have missed (with some extras thrown in from time to time).
1. Another Look at the Weekend that Was:
the fact that the Commodores, Gamecocks and Gators are concentrated in one six-team division gives everyone in the West -- including Auburn, which was swept this weekend in Columbia -- a fighting chance at winning their side of the league.

Auburn will finish the season against Georgia, Alabama and Tennessee. With an RPI still ranked 20th in the nation even after getting swept, the Tigers will only need to pick up a handful of wins to ensure a spot in the NCAA field. Oddly, getting into the SEC tournament may actually be tougher. With only Tennessee and Kentucky clearly out of the NCAA running, this is shaping up to be a year in which the NCAA selects a team (or teams) from the SEC that don't make it to Hoover.
(via Evan Woodbery/ AL.com)
2. Softball? Yeah, they just did that. Atta Girl(s)!
Auburn pitcher Angel Bunner threw out Megan Wiggins at home plate to end the game and give the No. 25 Auburn softball team a 3-2 victory over No. 4 Georgia and claim the Tigers' first-ever series win over a top-five opponent.

Auburn improved to 36-15 overall and 13-12 in the Southeastern Conference. Georgia fell to 42-9 overall and 15-8 in the SEC. By winning the final two games of the three-game series, Auburn earned its first series win over the Bulldogs since 2004.

"I'm so extremely proud of the way this team hustled and fought this weekend," Auburn head coach Tina Deese said. "Our pitchers did a great job holding Georgia to just three runs in the last two games. Angel came in today and pitched very well. I can't recall an ending exactly like that. It was very exciting and just a great way to win a ball game."
(via Auburn Tigers.com)
3. Chuck Jeroloman Finds a New Home (Hopefully)
Two players -- shortstop Chuck Jeroloman and lefty Eric Ackerman -- picked up their rings in street clothes.

Jeroloman arrived in York for the ring ceremony Friday, but he won't be staying long.

A resident of West Palm Beach, Fla., Jeroloman will join the Revolution about a month into the season for family reasons. He lost both his babysitters in the offseason, forcing him to stay at home to care for his 13-month-old son until his wife finishes her teaching job this spring.

His grandmother and father watched his son at the end of last year, but his grandmother decided to take a job as a house mother at a sorority house at the University of Florida.

"But I still thought I had my dad. He just retired from being a cop, but then he got hired to be a marketer for a law firm," Jeroloman said. "Both the people who are able to watch my son are gone."

Jeroloman will also earn his diploma in the coming weeks, finishing the last of 24 online credits he needed since being drafted after his junior year at Auburn.

The 28-year-old could be used as a utility player when he returns to the Revs later this season. He's looking to make a career switch to the college baseball coaching ranks.

"I developed some connections at Auburn, and I'm just putting it out there right now," Jeroloman said. "It's just more of a stable lifestyle. I love this game and I'd love to play it as long as I can, but there comes a time when I need to do what's best for my family."
4. Also, Michael Nix is a bit of a hero up there:

But the Revs' big announcement Wednesday could be the return of reliever Michael Nix.

Most fans remember the way Nix closed out the 2010 season -- recording the final out of the Atlantic League Championship Series at the Ballpark at Harbor Yard in Bridgeport, Conn.

Hitters could barely touch the 27-year-old in the postseason. He threw six innings in the playoffs and did not allow a run or a walk. He surrendered three hits and struck out eight. Opponents managed just a .143 batting average against him.

The right-hander also played a big role in York's ability to reach the championship series. He needed just two pitches to end a no-out, runners on first and third jam in the seventh inning of the deciding fifth game of the Freedom Division Championship Series against Somerset. The Revs won the game, 1-0.

"I don't know if there have ever been two bigger pitches thrown by a Revolution pitcher," said Revolution director of baseball operations Michael Kirk.
(via In York)
5. The Nooch is Still Crushing it in Frisco
In his most recent outing on Tuesday in Midland, Carpenter, the Hooks' closer, gave up two ninth-inning homers and then the winning blast in the 10th as Corpus Christi lost a 4-1 lead and fell 6-4.

Unfortunately for the Hooks, history repeated itself, as Mike Bianucci crushed Carpenter's 0-1 pitch over the rocking-chair seats in left field for a 5-3 advantage.

Hooks manager Tom Lawless said he brought Carpenter in because the right-hander needed to pitch after being idle for three nights.
(via Caller.com)
6. Also on the Farm: Cole Ks and Hubbard Saves
Austin Hubbard worked a scoreless, perfect ninth to give the Hot Rods their only 1-2-3 inning of the night. Hubbard's second save locked down the first win of the year for Omar Bencomo, who worked three scoreless innings and stranded three base runners with two K's.

(via WBKO.com)


The good news is that Cole Nelson struck out eight in 4.2 innings. The bad news is that he gave up 11 hits, walked two and gave up four runs. Gustavo Nunez was 2-4 with a triple.

(via Bless You Boys)
7. Auburn Adopts Rainsville
Auburn adopts Rainesville, Alabama! Just outside Fort Payne, suffered over 30 deaths, the most in the state behind Tuscaloosa. In desperate need of tarps, tents, and extension cords, along with the basic items such as non-perishable food items, baby items, NEW clothing, underwear, and shoes. Please spread the word and bring your donations this week to 714 E Glenn Avenue in Auburn. Thank you!
(via Facebook/ Auburn-Opelika Tourism Bureau)
AUPPL Note: I put this on twitter earlier, but I know the focus has been on Tuscaloosa, but don't forget about the North East part of our state. This past weekend I was up in Huntsville for work and saw some of the damage. It's pretty terrible. From Arab, Hackleburg, Phil Campbell, Cullman, Huntsville, Anderson Hills, Rainsville, and as Dylan Reeves reminds Cordova, Argo, Sipsey and Warrior. You hear all this information about Alabama Power restoring electricity, however, don't forget that most of that area is on TVA power which has been shut down and will probably be shut down until this Thursday.
8. Donate. Donate. Donate.
Just go here. Do it.
(via WSFA.com)
9. Finally, this happened last night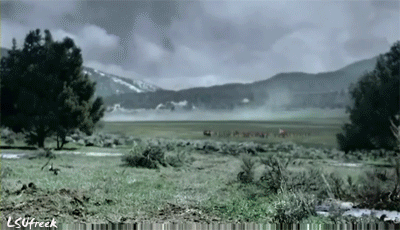 So if you'll excuse me, I'll be playing these on a loop all day (WARNING LANGUAGE):